STU Utilities
Installation
Download, extract and run the STU Utilities
Download and extract the STU Images
Requirements

Installation of STU tablet.
Colour models require the STU driver
Download and unzip the 32-bit utilities to run on 32 or 64 bit Windows.
Summary

STU Utilities are standalone programs which you can use to test the operation of an STU signature pad.
They can be used without installing the STU SDK.
Where applicable a Console version of the program is included, identified by a C suffix, e.g.
    

ClearScreenC

.exe

These applications use the Command Prompt and do not display a Window.
ClearScreen.exe

Clears the tablet display
HardwareReset.exe

Performs a hard reset of the tablet firmware
Identify.exe

Reports the tablet detected: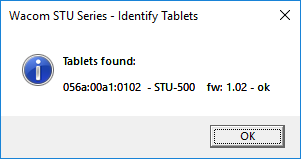 In addition the test displays properties on the LCD display. e.g.
    STU

-520

A fw: 

1.01

 Security-IC:

0.4

.153

.24


    Bulk Driver: 

in

 use
    Tablet extent: 

10400

 x 

6048

  Pressure levels: 

511


    Screen extent: 

800

 x 

480


    Report rate: 

200


    Resolution: 

2540


    Encryption: DISABLED

    Uid: 

00

:

00

:

00

:

00



PenData.exe

Reports the Device connected status with real-time pen data:
SendToSTU.exe

Sends the specified image file to the device (see /? for options).
STU-Images.zip contains suitable image files:
| STU Model | Name of image file |
| --- | --- |
| STU-300 | 396x100.png |
| STU-430 | 320x200.png |
| STU-500 | 640x480.png |
| STU-520 | 800x480.png |
| STU-530 | 800x480-530.png |
| STU-540 | 800x480-540.png |
| STU-541 | 800x480-541.png |
SoftReset.exe

Performs a soft reset of the tablet firmware