Use a signature device with a Citrix Published App (XenApp)
In order to forward a signature capture device so that it operates successfully with a Citrix Published App please make sure that at least the two following key steps have been followed.

Create an entry for the device in the DeviceRules registry key.

The example below shows amongst others an entry for the STU 530. This registry string is called DeviceRules and is in HKEY_LOCAL_MACHINE\SOFTWARE\Wow6432Node\Citrix\ICA Client\GenericUSB.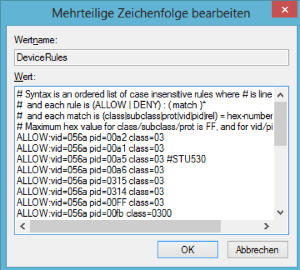 After connecting to the published app make sure that the device is being forwarded by the Citrix Receiver by right-clicking the Citrix Receiver icon on the taskbar and selecting <Connection Center>.

Select the Citrix server in the list of connections on the left and then click the "Devices" button (appears as <Geräte> in the screenshot below) and tick the STU in the list when it appears.